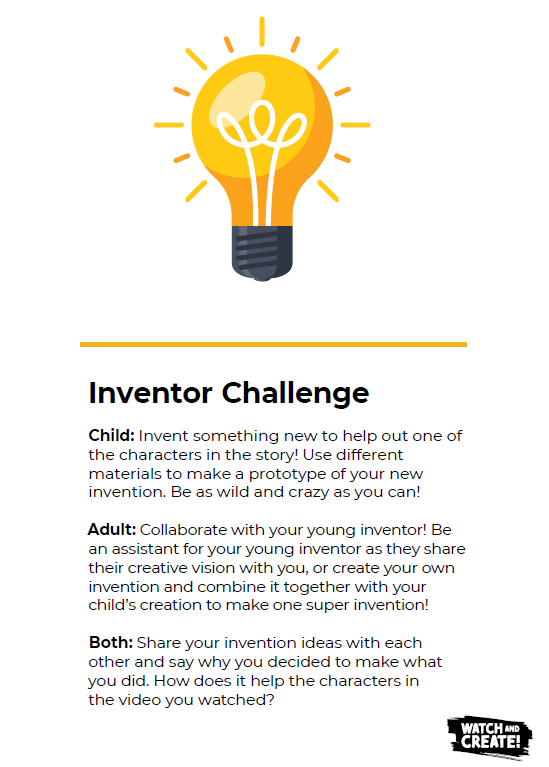 Watch and Create: Friday, March 20th
Updated every Friday with new featured videos and challenges
Are you and your kids spending a lot of time watching videos lately? Why not add some of your own creativity next time! The fictional worlds of movies and stories are a great place to draw inspiration for your own ideas. Watch and Create is a fun way to use videos as inspiration to create something together and a great way to practice #creativityeveryday!
How to Play Watch & Create:
Step 1) Watch a video- We recommend a short video clip so that you can continue with your own story when it's over. Theatrical trailers, such as Disney and Pixar movie trailers, work very well—check out the fun clips we have featured this week below!
Step 2) Give your child a challenge that allows them to stretch their imagination–check out the weekly challenges we have featured this week below!
Step 3) Ask open-ended questions about the awesome things you create together!
Tip: Creativity is more fun together—Not only is working with your child more fun for all, it also sparks meaningful conversations and can boost your child's learning.
Friday, March 20th Featured Challenges:
Feel free to make your own challenges as well and share them with us by tagging @creativitykids on Instagram or Twitter.

Friday, March 20th  Featured Video clips: 
The first trailer from Pixar's Soul: https://trailers.apple.com/trailers/disney/soul/
A clip from the vintage cartoon Superman- Billion Dollar Limited: https://vimeo.com/386591320/6629270388 
A clip of the song "You're Welcome" from Disney's Moana: https://trailers.apple.com/trailers/disney/moana/
The Research Behind Watch and Create?
Research shows that too much passive screen time can be unhealthy for you. This doesn't mean that screens are bad or that you can't enjoy watching videos—but try adding creative
activities that excite your mind.
Using your imagination together lets you share your ideas with others,
consider new possibilities and perspectives, and build confidence in what you create. The
more you use your creativity, the more creative you become.
Further Reading
For more on the research behind screen time, how to make a family media plan, the American Association of Pediatrics recommendations for media use, and more check out https://www.nisenet.org/catalog/watch-and-create-creativity-sustainability
Share with us
We would love to see what you create! Share your art with us @creativitykids on Instagram and Twitter.
Watch and Create was designed at CCM along with the National Informal STEM Education Network (NISE Net).
Written by Matt Jorge