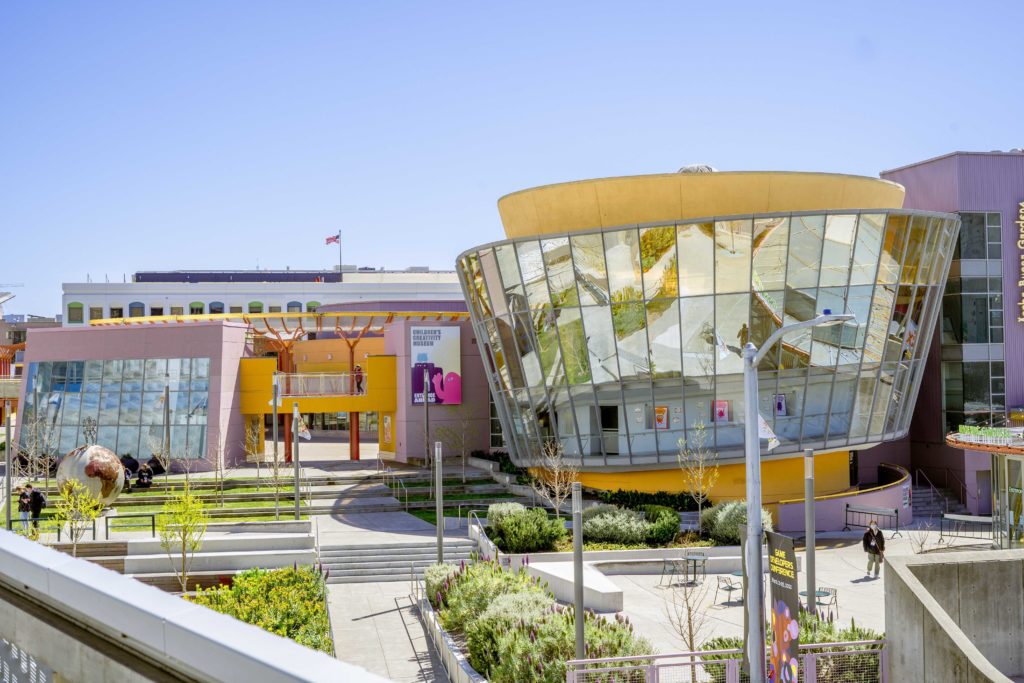 The Children's Creativity Museum Secures $800,000 in State Funding to Better Serve Bay Area Families
SAN FRANCISCO – The state budget signed by Governor Gavin Newsom on June 30, 2022 included $800,000 for the Children's Creativity Museum. This funding will support the museum's goals to better serve San Francisco Bay Area children, families, and educators through capital improvements, including improved indoor-outdoor spaces, a more welcoming front entrance, and refreshed exhibition spaces all of which have become more important due to the pandemic.
The state funding is a much-needed investment to offset the impact of the pandemic on the Children's Creativity Museum and San Francisco's South of Market (SOMA) neighborhood. Since the organization's reopening on February 19, 2022, museum attendance from low-income Bay Area families has increased and now accounts for 30 percent of visitors. Creating more opportunities and invitations for all children and families to thrive in the SOMA community is important to the city's recovery efforts.
"We have seen how all children and families can benefit from the Children's Creativity Museum, a place that inspires dialogue, connection, play and learning." said Dr. Carol Tang, the Executive Director of the Children's Creativity Museum. "As we approach our 25th anniversary next year, this support will help us break ground on improvements we've needed for many years and allow us to continue providing high-quality family programming in the Yerba Buena Gardens for years to come." Tang emphasizes, "We are grateful to Assembly Budget Chair Phil Ting (D-SF) for believing in our efforts to serve San Francisco families, and we want to thank State Senator Scott Weiner and Assemblymember Matt Haney for their partnership and collaboration in requesting this substantial funding."
"San Francisco's children need places that grow and foster their interest in arts and sciences. I'm proud to champion state funding to ensure a local treasure thrives for generations," said Assembly Budget Chair Phil Ting (D-San Francisco). "When we make these kinds of investments, kids are more likely to be engaged in school, which helps steer them toward academic success."
"Congratulations to the Children's Creativity Museum for receiving an $800,000 investment from the state. This funding will make our city better for children and families, and will help revitalize SOMA, which was hit hard during the pandemic," said Senator Scott Wiener (D-CA.) "Thank you also to Assemblymember Ting for championing this in the state budget."
"I have been inspired by the imagination brought by the Children's Creativity Museum, from my early days as a Bay Area kid, to my time as Supervisor representing the neighborhood the museum contributes to, watching kids learn and explore and grow," said State Assemblymember Matt Haney (D-San Francisco). "Now as a State Assemblymember I am delighted to see this investment granted to such a significant and vital institution, for both the City of San Francisco and the State of California."
The Children's Creativity Museum is among over forty libraries and cultural institutions across the state to receive targeted economic development funding from AB 178: the 2022 Budget Act by Assembly Budget Chair Phil Ting (D-San Francisco). For more information on other organizations that received funding, read the AB 178 Budget Act of 2022 on the California Legislative Information website.
About the Children's Creativity Museum: Located in San Francisco's Yerba Buena Gardens, the Children's Creativity Museum is a two-floor, 34,000 square-foot non-profit institution that offers multimedia experiences designed to inspire creative confidence and collaboration in families and children ages two to twelve. Their mission is to nurture creativity and collaboration in all children and families. In 2019, the Children's Creativity Museum, LeRoy King Carousel, and Creativity Theater served over 250,000 youth, families, teachers, schools and community-based organizations. Current exhibits and experiences include the Animation Studio, Making Music Studio, Innovation Lab, XOXO: An Exhibit About Love & Community, Storybook Park, Mood Room, and the historic LeRoy King Carousel. To learn more, visit: www.creativity.org
Follow the Children's Creativity Museum on Facebook, Instagram, and Twitter for more information about the museum's programs, exhibits, upcoming events, and announcements.