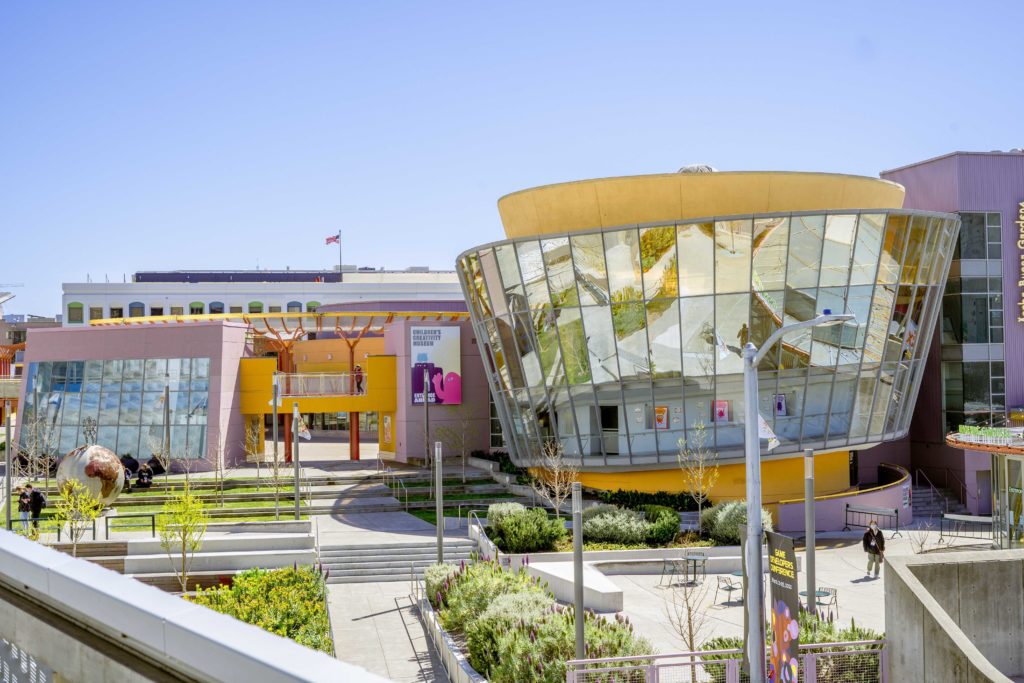 The Creativity Museum and the Exploratorium were awarded by the American Alliance for Museums (AAM) on Saturday, May 20, 2023, in Denver, CO for outstanding work and leadership in advancing diversity, equity, accessibility, and inclusion (DEAI) in museums.
SAN FRANCISCO, Calif., June 5, 2023 – The Creativity Museum and the Exploratorium are honorees for the Recognition for the Advancement of Diversity, Equity, Accessibility, and Inclusion (DEAI) in Museums by the American Alliance of Museums (AAM), which recognizes institutions, people, and programs dedicated to excellence in the museum field. These two San Francisco museums are the only institutions in California to receive awards at the 2023 AAM Annual Meeting in Denver, CO, on May 20, 2023.
The Recognition for the Advancement of DEAI in Museums honors institutions that go above and beyond to drive impact and make a difference both internally through museum workplace culture, practices, programs and policies and externally through engagement with museum audiences and communities – with the acknowledgment that DEAI work is ongoing and iterative.
The Creativity Museum, a non-profit institution in San Francisco's Yerba Buena Gardens offering multimedia art and technology experiences, serves the lowest-income families in the Bay Area. This year, the Creativity Museum is accepting this recognition for institutions alongside the Frazier History Museum in Louisville, Kentucky. "The Creativity Museum has always been at the forefront of diversity, equity, accessibility, and inclusion," said Dr. Carol Tang, the Executive Director of the Creativity Museum. "I am honored to carry on that tradition, ensuring that our board, staff, and visitors all represent the community where we're rooted."
The Exploratorium, a public learning laboratory in San Francisco, is receiving recognition for its STARS (Striving for Trans-Inclusion and Anti-Racism in Science learning) program that expands inclusion, belonging, and relevance in informal science learning with a focus on addressing inequities based on gender, sexuality, and race. "I am proud of STARS, and especially Sal Alper, who developed this groundbreaking program to create visitor experiences focused on belonging and inclusion for museum educators and youth," said Akiko Minaga, Director of Explainer Programs at the Exploratorium. "STARS represents how the Exploratorium strives to continue exploring race, gender, disability, and more with visitors as part of an authentic learning experience in a museum."
To be considered by the AAM for this award, institutions are evaluated by how the organization's or program's structure demonstrates sustained and measurable support for advancing DEAI. Both the Creativity Museum and the Exploratorium are ahead of much of the museum field and have set examples for how to embed and sustain DEAI efforts within its organization and programming and create inclusive experiences that further diversity in the arts and sciences.
"The Creativity Museum and the Exploratorium are leaders in partnering with our local arts community and fostering a diverse, equitable, and inclusive culture in the Bay Area." said Ralph Remington, the Director of Cultural Affairs at the San Francisco Arts Commission. "This national recognition for both the Creativity Museum and the Exploratorium is a true honor for our city and reflects our commitment to rebuilding a vibrant, bustling San Francisco for all."
In addition to the AAM recognition, on May 20, 2023, the City and County of San Francisco Board of Supervisors issued a Certificate of Honor to Dr. Carol Tang to recognize her work promoting initiatives to increase the number of women and people of color in the STEM field.
About the Creativity Museum: Located in San Francisco's Yerba Buena Gardens, the Creativity Museum is a 34,000 sq. ft., two-floor non-profit institution that offers multimedia art and science experiences designed to inspire creative confidence and collaboration in families and children ages two to twelve. The Creativity Museum's mission is to nurture creativity and collaboration in all children and families. Current exhibits include the Art & Design Intertwined, Animation Studio, Making Music Studio, Storybook Park, and the historic LeRoy King Carousel.
About the Exploratorium: The Exploratorium is a portal to the astonishing scientific phenomena that animate our world and shape our actions. It creates extraordinary learning experiences that ignite curiosity, upend perceptions, and inspire brave leaps forward. Since 1969, the Exploratorium has been home to a renowned collection of exhibits that draw together science, art, and human perception, changing the way science is taught. Its award-winning programs provide a forum for the public to engage with artists, scientists, policymakers, educators, and tinkerers to explore the world around them. The Exploratorium celebrates diversity of thought, inspired investigation, and collaboration across all boundaries.
###
For media inquiries or more information about this announcement, please contact Dr. Carol Tang at carol@creativity.org and Janny Hu at jhu@exploratorium.edu.